Taylor/Van Orman
1220 SE Second St - Evansville, Indiana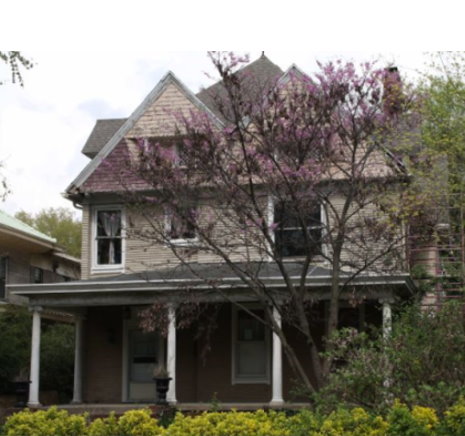 Twin, shingled gables with columns flanking recessed diamond-paned windows give interest to this two-story weather boarded residence built in 1895 for Edwin Taylor. The house joined a dozen others built between 1890 and 1896 that shaped the Upper Second Street residential neighborhood.
Taylor was an attorney. He and his wife Ann lived here until 1920, when they sold the property to F. Harold and Susie Beeler Van Orman. The new owners were an interesting couple and very likely a favorite topic of neighborhood conversation. Van Orman was a businessman and politician. The year he moved to Second Street, he won a seat in the state senate on the Republican ticket. Four years later, the voters gave him the Lt. Governor's slot. As a businessman, he operated his family's chain of four regional hotels, one of which was Evansville's McCurdy.
Susie Van Orman made a name for herself when, in 1929, she became the city's first woman mayoral candidate. She was defeated in the primary by Stuart Hopkins who, in turn, lost to Democrat Frank Griese.
In 1931, the couple divorced. Fascinated by the circus and, particularly, with big-top female stars, Van Orman married twice after Susie. In 1935, he tied the knot with Harriett Hodgini, a twenty-year-old equestrienne. From 1948 until his death in 1958, his wife was Kitty Clark. Kitty starred with Ringling Brothers Circus from 1937 to 1948.



Text Courtesy of the City of Evansville



Back to The Evansville Boneyard