Mildred Weinert "Tudie" Sorensen
Yeoman First Class, US Navy 1942-1946 - Evansville, Indiana



Mildred Weinert Sorensen, known as 'Tudie' to family and friends, entered the Navy in 1942. She trained at Hunter College in New York and Milledgevill, Georgia before being stationed at the Navy Yard in Philadelphia, Pennsylvania. She sold and was featur
ed on War Bonds and worked with the USO . She was part of the WAVES and attained the rank of Yeoman First Class.
She was discharged from the Navy in 1946 and returned to Evansville where she raised six children and was a member of the American Business Women Association, Moonlight Chapter.
She was a former member of Good Shepherd Catholic Church and St. Joseph Catholic Church in the City. For the last 14 years, she attended church at Little Sisters.
Yeoman First Class, Mildred Weinert "Tudie" Sorensen died in 2013 at the age of 91.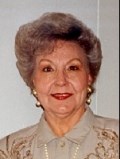 Back to The Evansville Boneyard